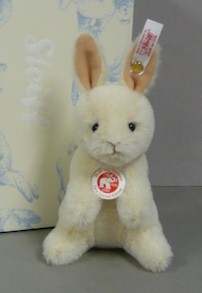 Steiff alpaca
Diva rabbit
white


The Diva rabbit, is 10 cm (4 inch) in size, 1-way jointed, made from white colored alpaca and is limited to 1500 pieces. The Ancient Greeks thought rabbits were magic. Even today, magicians still pull rabbits out of hats. The Diva rabbit is a part of that long tradition. She's the partner of Frederic the chimpanzee, our gifted magician issued in 2014 as well. Diva facials features are hand finished. She is designed to fit perfectly inside Frederic's top hat. The duo makes a magnificent pair. But like any "Diva", she sometimes longs to be alone in the spotlight. That's why, at Diva's request, she is made available for purchase as a solo act. Diva comes in a box with a certificate of authenticity.
EAN 034404
Sale price: US $ 73.60 / Euro 55,20
Normal price: US $ 92.00 / Euro 69,00
No Free Shipping on this item.
Orders must be placed by phone and/or email
Call: 800-559-4585
Email: info@bearattack.com