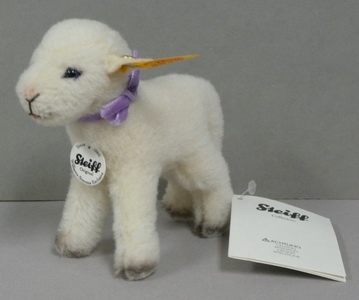 Steiff Williams-Sonoma
mohair lamb
white


The Williams-Sonoma lamb, is 11 cm (4.25 inch) in size and made from white mohair. Invite a wooly lamb to frolic at your springtime celebrations or nestle inside a special Easter basket, visiting from his magical pasture just for the season. He is based on a classic lamb pattern from the Steiff archives. He is stuffed and stitched by hand such that each lamb has an expressive face and one-of-a-kind personality. It has hand-airbrushed details and comes with a Williams-Sonoma exclusive chest tag and satin ribbon. This lamb is not limited (yellow ear-tag), does not come in a box and does not have a certificate of authenticity.
EAN 682605
Sale price: US $ 95.20 / Euro 95,20
Normal price: US $ 119.00 / Euro 119,00
No Free Shipping on this item.
Orders must be placed by phone and/or email
Call: 800-559-4585
Email: info@bearattack.com