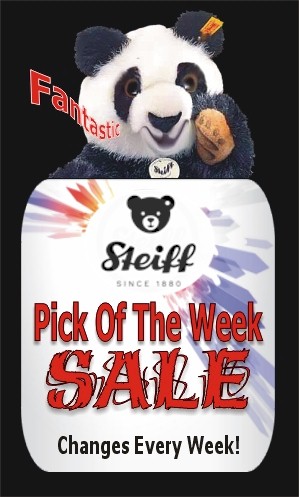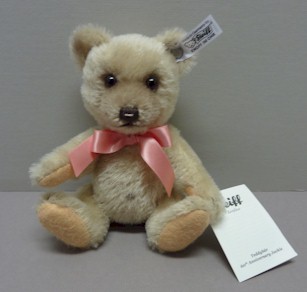 Steiff mohair Teddy bear
60th Anniversary
Jackie 1953
cream


The Teddy bear 60th Anniversary Jackie 1953 was manufactured during demonstrations at the eighth "Steiff Sommer" in 2013. The Jackie is made from cream colored mohair, 17 cm (6.75 inch) in size, 5-way jointed, has glass eyes and is filled with wood shavings. It was back in 1953 that a very special bear named Jackie first saw the light of day. Small enough to fit in the palm of a human hand and loveable enough to secure a permanent place in our hearts. With his round and big head, he calls to mind a child-like character with a gentle, friendly countenance. He has a very special "Button in Ear" – namely a reproduction of the steel button introduced in 1952 with the name Steiff in raised script. Jackie is limited to an edition of 500 and does not come in a box but has a certificate of authenticity.
EAN 673665
Sale price: US $ 260.00 / Euro 196,00
Normal price: US $ 325.00 / Euro 245,00
No Free Shipping on this item.
Orders must be placed by phone and/or email
Call: 800-559-4585
Email: info@bearattack.com