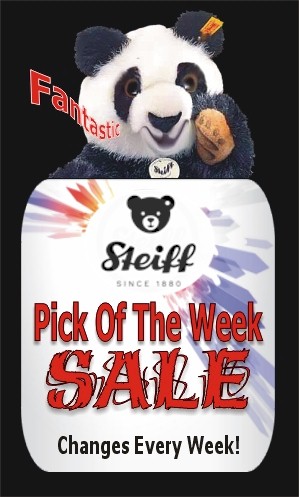 Steiff cotton
Classic Teddy bear Signature
blue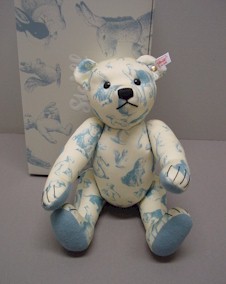 This delightful Classic Teddy bear Signature blue with his striking blue-patterned coat made of maco-satin is now following in the footsteps of the successful series of the Steiff Billboard Teddy Bears. As the fourth bear of this exclusive series with the characteristic signature pattern, this bear proudly shows the original bear and animal designs by Paul Steiff kept in a discreetly elegant blue tone that adorns his bearish body. His friendly character is emphasized by his twinkling black eyes and his hand-stitched nose and mouth. The soles of his feet and his paws are made of finest blue wool felt and decorated with hand-stitched claws. He is 30 cm (11.75 inch) in size, limited to 2008 pieces and comes in a box with certificate of authenticity. Other bears issued in this series are the Classic catalogue Teddy bear (2007), Classic Teddy bear Margarete (2007) and Classic Teddy bear Signature green (2008).


EAN 038570
Sale price: US $ 212.00 / Euro 144,00

Normal price: US $ 265.00 / Euro 180,00


No Free Shipping on this item.

Orders must be placed by phone and/or email
Call: 800-559-4585
Email: info@bearattack.com