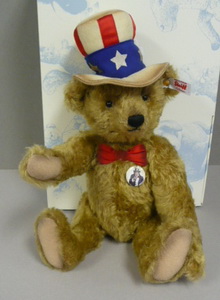 Steiff Uncle Sam
mohair Teddy bear
with music box
brass





Uncle Sam, is 31 cm (12.25 inch) in size, 5-way jointed, made from brass colored mohair and limited to 2000 pieces. Although best known for being the face of historic recruiting campaigns for the U.S. military, the origins of Uncle Sam date back even further. The name is linked to Samuel Wilson, a meat packer from Troy, New York, who supplied barrels of beef to the United States Army during the War of 1812. Wilson stamped the barrels with "U.S." for United States, but soldiers began referring to the meat as "Uncle Sam's." The music box plays the tune "America, the beautiful". He wears a handmade felt hat, an "Uncle Sam" pin, and a wild silk bow tie, all of which have been airbrushed for an antique effect. It's a fitting tribute to this enduring American symbol. He comes in a box with certificate of authenticity.
EAN 683107
Sale price: US $ 192.00 / Euro 209,60
Normal price: US $ 240.00 / Euro 262,00
No Free Shipping on this item.
Orders must be placed by phone and/or email
Call: 800-559-4585
Email: info@bearattack.com