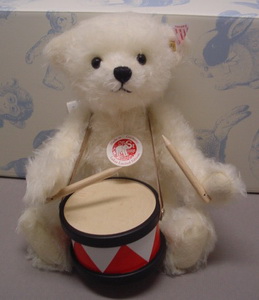 Steiff Lukas
mohair Teddy bear
white




Lukas Teddy bear, is 25 cm (9.75 inch) in size, 5-way jointed, made from white colored mohair and is limited to 1500 pieces. At a visit to a funfair, Lukas Teddy bearīs ears suddenly prick up at a captivating sound: "Bam-ba-ba-bam, bam, bam". Right away, he let's go of his fatherīs paw and runs off in search of that sound - and then stands amazed. And now he has only one wish: for a drum of his own! When Christmas Day finally arrives, what does Lukas find under the tree? A wooden drum complete with leather strap and matching wooden drumsticks! Lukas was born to play the drums: "Bam-ba-da-bam, bam, bam". He comes in a box with certificate of authenticity.
EAN 034060
Sale price: US $ 158.40 / Euro 119,20
Normal price: US $ 198.00 / Euro 149,00
No Free Shipping on this item.
Orders must be placed by phone and/or email
Call: 800-559-4585
Email: info@bearattack.com